Gay Buenos Aires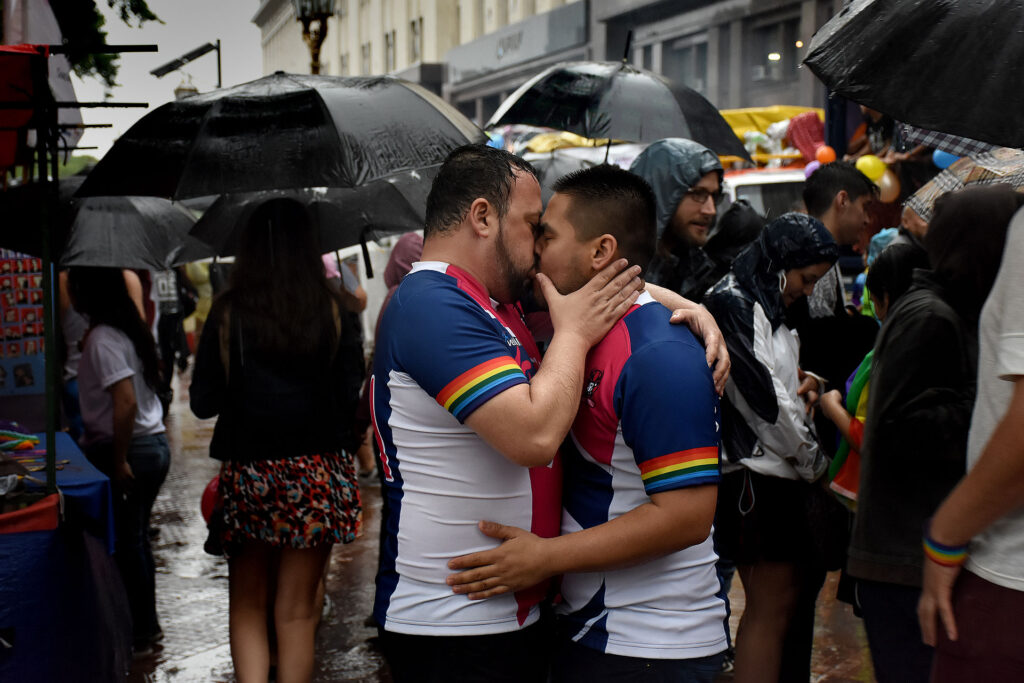 Gay Buenos Aires Guide
The gay area of Buenos Aires is rather spread out but there is a higher concentration in Barrio Norte, Palermo Viejo, and San Telmo.
GAY BARS & CLUBS IN GAY BUENOS AIRES
Address: Galería Vía 9, Carlos Pellegrini 1083, Caba
Phone: +54 11 4914-7327
Open: Friday – Sunday: 7 pm – 1 am
Boys Bar's Sunday night parties are a must. Cheap and easily accessible.

Address: Av. Córdoba 3271, C1187AAG CABA, Argentina
Phone: +54 116599-9925
Open: Wednesday to Sunday: 7 pm – 5 am

Dark club is an open playground for men only where anything would go. It's a place where you can place your orders and indulge in all of your fantasies.
Address: Aráoz 2424, C1425 CABA
Phone: +54 113085-2972
Open: Wednesday: 11 pm – 6 am
The best Gay Les Party in town every Wednesday. Jolie is great music, friends, surprises, games, live bands, free tarot, delicious food, and everything else that we can't put into words.

Address: Niceto Vega 5534, C1414BFD C1414BFD, Buenos Aires, Argentina
Phone: +54 34 584-0966
Open: Friday: 9 pm – 4 am
Furiosa is currently based in Buenos Aires F.D., which has a very good atmosphere of people and good music.

Address: Gurruchaga 1867, C1414 CABA, Argentina
Phone: +54 11 2058-3943
Open: Wednesday to Sunday: 7 pm – 3 am

The decor is amazing and inviting, with surprises at every turn. The music is fantastic. The atmosphere is pleasant. The drinks are reasonably priced.
Address: Balcarce 869, C1066 CABA, Argentina
Phone: +54 11 6088-7887
Open: Tuesday to Sunday: 10 am – 9 am

In the Buenos Aires sun, this unpretentious café serves cheap and cheerful Argentinian drinks and meals during the day. By night, the café transforms into a vibrant gay cocktail bar, ideal for kicking off a night out before heading to Km Zero or Glam.

Address: José Evaristo Uriburu 1018, C1114 AAF, Buenos Aires, Argentina
Phone: +54 11 4827-4828
Open: Monday to Thursday: 3 pm – 2 am, Friday to Sunday: Open 24 hours

Zoom provides something distinctive. It's a gay bar with video cabins and dark rooms for when you need to get more intimate with that new boy you met.

GAY BUENOS AIRES SPAS
Address: Viamonte 1770, C1055 ABH, Buenos Aires, Argentina
Phone: +54 11 4371-7263
Open: 1 pm – 10 pm daily

One of Argentina's largest saunas, serving the somewhat shy South American gay scene. Visitors have free internet access. Showers, a plunge pool, a relaxation room, a dry sauna, a steam bath, a solarium, and a whirlpool / Jacuzzi / hot tub are all available.

Address: Gascón 956, C1181 CABA, Argentina
Phone: +54 11 4862-6519
Open: 12 pm – 10 pm daily

Homosapiens is the largest and best gay sauna in Buenos Aires, with a variety of amenities for your pleasure and relaxation. Wet and dry saunas, cabins, a video room, a bar, massage tables, and a darkroom are all available. With your cover charge, you get a towel, a locker, and some shower toiletries.

Address: Av. Medrano 1047, C1188 CABA, Argentina
Phone: +54 11 4584-4097
Open: 1 pm – 10 pm daily

Madison Club de Hombres has three floors and a pool, dry and wet sauna, hot tub, darkroom, cabins, bar, small cinema, and sling. It's perfectly situated one block away from Amerika for those who want to dance before or after.

Address: Av. Callao 1046, C1023 CABA, Argentina
Phone: +54 11 4814-0494
Open: 11 am – 8 pm daily

Best Men's Day Spa in Buenos Aires. The United States and Europe recognized Markus Day Spa for Men. The prestigious German newspaper Die Welt named it one of the world's top 12 day spas.

Phone: +54 11 3229-5987
Open: 24 hours daily

Male massage therapists who use a variety of techniques to relieve stress, release tension, and restore energy.

GAY FRIENDLY TOUR GUIDES TO HELP EXPLORE GAY BUENOS AIRES
Gay friendly tour guides that look after your safety and welfare at all times. Not only will your local personal guide show you the regular sites but also places off the beaten track. Testimonials highly recommend this service.

HOTEL IN THE GAY BUENOS AIRES AREA OF SAN TELMO
LGY G A Y Bed & Breakfast ONLY MEN
– an economic 2 star Bed & breakfast, well located, with hot tub and free wifi
FLIGHTS
Compare & Search flights, the easy way to search for flights in one place.
PLEASE HELP TO KEEP THE LISTING OF GAY BUENOS AIRES UPTODATE
If any of these listings are incorrect, go out of date or a new place opens in Buenos Aires, please let us know by contacting info@holidayhouseboys.com. Thank you!
GAY CITY GUIDES