JAKARTA, INDONESIA
Holiday Houseboys
To fully appreciate Jakarta you need to book a Holiday Houseboy, your private gay friendly tour guide. He will be able to show you around like a local. Whether you want to see the tourist sites, places off the beaten track or discover new experiences, the Holiday Houseboy is there to help you. He looks after your safety and welfare at all times.
Vacancy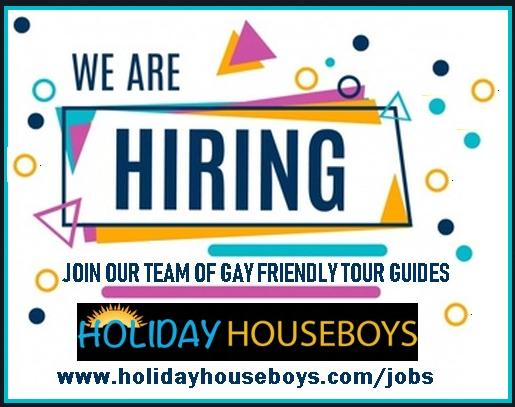 How To Book A Holiday Houseboy
To book any of our Holiday Houseboys please go to the enquiry form.
Alternatively WhatsApp +94-76-630-1069.
Remember a Holiday Houseboy is your gay friendly tour guide who looks after your safety and welfare at all times.
Please note these are guide services and not sexual services.
Our other destinations in Indonesia are Bali and Medan.
Book one or more of these amazing activities to make the most of your stay in Jakarta.
Highlights of Jakarta
Indonesia is Indonesia. A Southeast Asian nation made up of thousands of volcanic islands. It is home to hundreds of ethnic groups speaking many different languages. In addition it is known for its vast wildlife and beautiful scenery. In the heart of it all is Jakarta, its capital. It is home to a number of different cultures which influenced its architecture, food and way of life.
Jakarta has a rich historical background. It was named after the sanskrit word Jayakarta which means 'victorious deed'. The north coast area of western Java including Jakarta was the location of the prehistoric Buni culture. This flourished from 400 BC to 100 AD. The area in and around the modern capital was part of the 4th-century Sundanese kingdom of Tarumanagara, one of the oldest Hindu kingdoms in Indonesia. The area of North Jakarta around Tugu became a populated settlement in the early 5th century. But it was during the colonial era, that the capital was taken over by the Dutch. It was only in 1949 when Jakarta gained true independence.
Jakarta is home to the largest Mosque in South East Asia, the Istiqlal Mosque. It is a beautiful mosque in terms of architectural greatness. The city was first established as a capital city by Dutch colonials, and the area that is now called Kota Tua served as the headquarters of the Dutch East India Company. The area has several old, European-style buildings that still stand today. Tourists can tour the place by foot or rent a charmingly decorated bicycle. Sunda Kelapa is an old port first established during the Pajajaran Hindu Kingdom. Once serving as a main port, the area now only lodges the traditional pinisi ship. Other than its historical significance, this harbour also retains its aesthetic beauty, owed to charming colourful ships and clear blue skies.

Aside from its rich history, Jakarta is also a place of culture. Whenever you visit Jakarta, don't forget to visit its museums. The National Museum of Jakarta hosts a variety of historical artifacts, sculptures, and historical items dating back from the precolonial period. If you are looking for a more practical approach, try to visit the Museum Bank of Indonesia which hosts the history of the finance and economy of Indonesia. There are other interesting places to visit like the Kite Museum, the Textile Museum and the History Museum.
For a more sophisticated approach try the Galeri Nasional Indonesia, which is the most famous art gallery in Indonesia. It is home to a variety of well curated art work by Indonesia's top national artists.
For more fun activities, wonderful landmarks and monuments are available for visiting. The Taman mini Indonesia Park is a great way to spend a day in Jakarta, where you can learn about the cultural diversity of the Indonesian archipelago.
The Ancol Dreamland is an awesome water park if you like getting wet. And you have Jakarta's Old Town which is a great place to admire the vast culture and architecture of the region.
If you're a foodie, make sure to visit the streets of Jakarta for authentic street food. The restaurants of Jakarta serves mainly curry based dishes which is a staple for South East Asian countries.
Jakarta would surely make you realise why South East Asia is the destination for millions of tourists. Come, indulge in the food, the view and the culture.
What better way to fully enjoy what this metropolitan city has to offer, than to hire a Holiday Houseboy. Your private gay friendly tour guide who looks after your safety and welfare at all times. In conclusion get the most out of your vacation.
Find Hotel Deals & Discounts in Jakarta
Find Your Cheapest Flight