MELAKA, MALAYSIA
Private Gay Friendly Tour Guides
To fully appreciate Melaka you need to book a Holiday Houseboy, your gay friendly tour guide. If you want to see the tourist sites, places off the beaten track or discover new experiences, the Holiday Houseboy is there to help you. He looks after your safety and welfare at all times.
Vacancy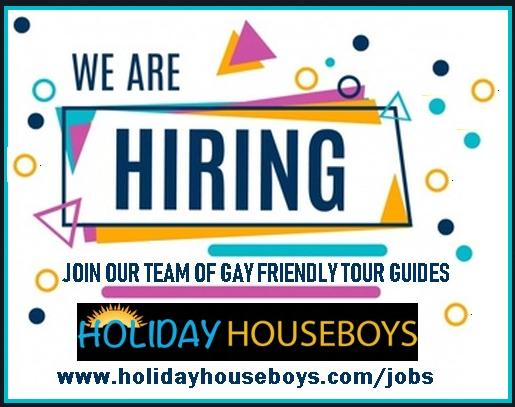 How To Book A Holiday Houseboy
To book any of our Holiday Houseboys please go to the enquiry form.
Alternatively WhatsApp +94-76-630-1069.
Remember a Holiday Houseboy is your gay friendly tour guide who looks after your safety and welfare at all times.
Please note these are guide services and not sexual services.
Make the most or your stay in Melaka by booking one or more of these wonderful activities.
Highlights of Melaka
Melaka or "Malacca" (an alternative spelling), is a cosmopolitan coastal city with a  population of 600,000. Its heritage background shows influences of the Portuguese, the Dutch and  the British.
As a result of its cultural value, Melaka became a World Heritage Site in 2008. 
For example the Stadhuys is a historical structure in the heart of the city, the Red Square.  The Stadhuys is known for its red exterior and nearby red clocktower. It was built by the Dutch in 1650 as the office of the Dutch Governor and Deputy Governor.
Situated at Laksamana Road, beside the Christ Church, is now home to the History and Ethnography Museum. Supposedly the oldest remaining Dutch historical building in the orient. Albeit among the displays in the museum are traditional costumes and artifacts throughout the history of Melaka, which makes it the city's premier museum.

Whilst most of the European visitors come to dwell on the cultural aspects, the Chinese visitors both from Kuala Lumpur and Singapore travel to Melaka for its food.
When the Chinese came they subsequently mixed with the local Malay population. This is the "Baba Nyonya". From this they developed Chinese dishes but using local exotic ingredients. Today Baba Nyonya is the name of that cuisine.  And various restaurants around the city specialise in serving these exotic dishes.
Places of interest include the Portuguese Settlement, Fort A Famosa, The StadtHuys, St. Peter's Church (the oldest Catholic church in Malaysia), Christ Church and the famous Jonker Street, amongst many others. Other major attractions include the 110 metre observation tower called Menara Taming Sari, the Baba Nyonya Heritage Museum and a gentle river cruise along the Melaka river.
In addition Melaka has an airport. Nowadays the low cost carriers operate these flights. However be warned, they are regularly rescheduling.
Albeit the vast majority of visitors come to Melaka by road. Either down from KL or up from Singapore. A one way Singapore to Melaka taxi service operator charges 500 ringgits (approx. US160). A one way KL to Melaka taxi service charges 250 ringgits (approx US80). Alternatively the bus from KL has  a regular service operated by various bus companies for 10 to 15 ringgits (US3 to US5).
Find Hotel Deals & Discounts in Melaka / Malacca
Find Your Cheapest Flight to Kuala Lumpur, 151 kms (95 miles) away from Melaka