NEW YORK, USA
Private Gay Friendly Tour Guides
To fully appreciate New York you need to book a Holiday Houseboy, your gay friendly tour guide. If you want to see the tourist sites, places off the beaten track or discover new experiences, the Holiday Houseboy is there to help you. He looks after your safety and welfare at all times. It is a fun way to explore a new city.
Vacancy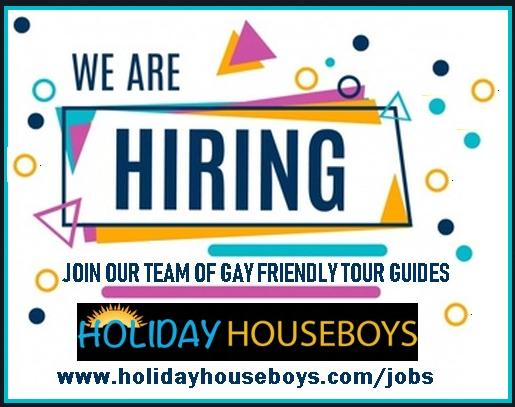 How To Book A Holiday Houseboy
To book any of our Holiday Houseboys please go to the enquiry form.
Alternatively WhatsApp +94-76-630-1069.
Remember a Holiday Houseboy is your gay friendly tour guide who looks after your safety and welfare at all times.
Please note these are guide services and not sexual services.
Our other destination in the USA is Los Angeles
Book one or more of these activities to make the most of your stay in New York City.
Highlights of New York
The "Big Apple" otherwise known as the New York City draws in the crowds from all corners of society. Actually comprising of 5 boroughs, it is Manhattan where you will find the highest concentration of hustle and bustle. Notably you have the financial district, commercial district and entertainment area all packed together. Competing for work, shopping and fun to everybody who passes by.
The most iconic statue has to be the Statue of Liberty. Overlooking New York harbor on Liberty Island, it was a friendship offering from France in 1886. It embodies the concept of freedom and democracy. Ideals which American citizens still value highly today. The torch held in her right hand represents the light to show the path to freedom. Another expression of freedom are the chains broken at her feet. In her left hand the Roman goddess holds a tablet. Inscribed is the date July 4, 1776. The date of American independence.

Located between the upper east side and the upper west side, Central Park is another iconic symbol of New York. Often depicted in films. A place to enjoy. Somewhere you can retreat to from the hectic city. Nevertheless main attractions include Delacorte Theater. They host a Shakespeare in the Park program in summer. And a Central Park Zoo along with various carousel rides. In winter you have the Wollman Rink. A famous open door ice rink. Apart from all this, there are many walking paths to stroll down and benches to rest at. But don't be surprised if you see joggers, as it is a place for exercise too. In addition there is the North Meadow Recreation Center, baseball pitches, soccer fields and basketballs courts.
Looking for some art? New york won't disappoint. Color Factory is an interactive experience of 16 multisensory installations. You can even have your own favourite color ice-cream. Whereas the Agora Gallery is a contemporary art gallery. It permits artists the opportunity to connect with professionals in the sector. For something more unusual, try Snark Park. This exhibition area explores texture and materials. Their dark room enables you to view other visitors looking at the exhibits. People watching. And for a good old traditional gallery with vintage photos, antiques, posters and memorabilia, try Frantiques Gallery. The Metropolitan Museum of Art is also popular.
Other museums of note include the New-York Historical Society Museum & Library, the International Center of Photography Museum, the Fraunces Tavern Museum and The Met Breuer. The latter looks at contemporary art through history. The 9/11 Memorial Museum is also a must see. A poignant memory of that devastating event resulting in the demise of the Twin Towers.
Albeit there are so many things to do and see in New York. Such as see a show on Broadway, visit the Empire State Building, and Brooklyn Bridge. Dine along the Hudson River. Go to a rooftop restaurant to see the Manhattan skyline. Shop at one of the famous stores such as Bergdorf Goodman, Saks 5th Avenue or Nordstrom. The Shops at Columbus Circle are also becoming popular.
Don't forget to visit Greenwich Village. The epicentre of gay life, with bars and shops to suit all tastes. With Washington Square Park at its centre, there are even jazz clubs and off-Broadway shows. The rainbow flags are in abundance. Testifying to the presence of the LGBTQ community.
Whatever you decide to do or go, best to contract the services of a Holiday Houseboy, your gay friendly tour guide. He will be able to point you in the right direction and look after you.
Find Hotel Deals & Discounts in New York
Find Your Cheapest Flight