RECIFE, BRAZIL
Holiday Houseboys
Come to Recife in Brazil and enjoy yourself. Book a Holiday Houseboy, your local gay friendly tour guide. He will look after your safety and welfare at all times.
Vitor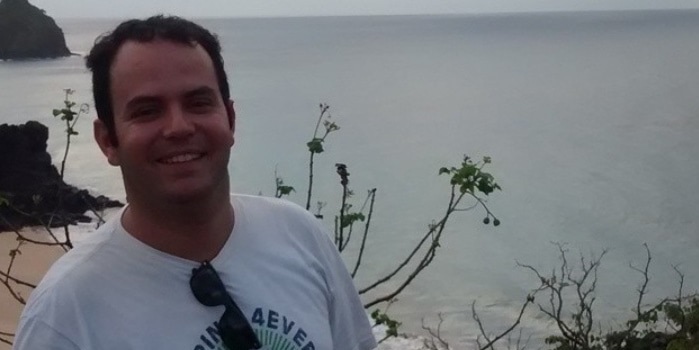 Vitor has a Masters in Education. He works as a tourist guide. He describes himself as easy going, communicative, friendly and an optimist. For hobbies Vitor enjoys the beach, going out with friends, eating at restaurants and travel. To get the most out of Recife, book Vitor and enjoy the town with a local at your side.

Vitor is 42 years old, a non smoker and speaks English, Spanish and Portuguese.
Total cost for the guide services of Vitor for one day (8 hours) = a non refundable deposit of USD 45 by Paypal or major credit card (Visa, Mastercard, American Express) PLUS USD 70 in cash to Vitor after his services. Total 115 US dollars.
Similarly the total cost for the guide services of Vitor for half a day (4 hours) = a non refundable deposit of USD 25 by Paypal or major credit card (Visa, Mastercard, American Express) PLUS USD 40 in cash to Vitor after his services. Total 65 US dollars.
This does not include transport, entrance fees or any food & beverage costs.
How To Book A Holiday Houseboy
To book any of our Holiday Houseboys please go to the enquiry form.
Alternatively WhatsApp +94-76-630-1069.
Remember a Holiday Houseboy is your gay friendly tour guide who looks after your safety and welfare at all times.
Please note these are guide services and not sexual services.
To make the most of your stay in Recife book one or more of these amazing activities.
Highlights of Recife
Recife is the capital of the state of Pernambuco in the north eastern part of Brazil. With a population of over 1,650,000 it is also the largest city in Pernambuco.
Recife was founded in 1537 by the Portuguese. As a result of the stone reefs around the area, Recife got its name. Moreover with major production of sugar cane in the region, it became an influential trading port.
Geographically there are many islands interconnected by bridges. Hence Recife goes by the nickname of "Brazilian Venice".

With fiscal incentives in the 1970's and 1980's, Recife became a major industrial zone. So much so that Recife became the largest industrial area in the North/North East. Not only in sugar cane and its derivatives such as ethanol, but also in the manufacture of cars and ships. Consequently engineering, electronics and software are major businesses developed in the area.
Apart from being a commercial hub, Recife became a medical hub. Albeit the second largest in the country after Sao Paulo. With plenty of labour at hand accompanied by private investments, many seek medical attention in Recife. Indeed the modern hospitals host state-of-the-art equipment, thereby enabling them to offer the best attention medical care possible.
Recife is a major tourist destination. Firstly it has a marvellous beach. A paradise for sun and sand worshippers. The beach Porto de Galinhas located 60 kms south of Recife has repeatedly won the title of best beach in Brazil award. Secondly it has history. Its historical sites go back to the times of the Portuguese occupation and briefly to the Dutch occupation. Check out for example the old quarter of Recife, "Recife Antigo". Here you will find Madre de Deus (Mother of God) Church, as well as remnants of its Jewish past. See the Kahal Zur Israel Synagogue. The first synagogue in the Americas. You also have the Military Museum. However it is fun to find its Marco Zero, the founding spot of the city from which other places radiate.
One place not to miss is Olinda. Located 7 kms north of the city it is of historical importance. So much so that UNESCO awarded it the title of a World Heritage Site in 1982.
An Educational Hub

Whilst Recife is known as a commercial and medical hub, it is also famous for education. It is home to the Federal University of Pernambuco. Moreover it is the largest university in the state of Pernambuco. Many historical people of importance have attended the university. Including the Brazilianpoet and abolitionist Castro Alves.
Find Hotel Deals & Discounts in Recife
Find Your Cheapest Flight