SANTO DOMINGO, DOMINICAN REPUBLIC
Holiday Houseboys
To fully appreciate the Dominican Republic you need to book a Holiday Houseboys, your local gay friendly tour guide. He will be able to show you around like a local. Whether you want to see the tourist sites, places off the beaten track or discover new experiences, the Holiday Houseboy is there to help you. He looks after your safety and welfare at all times.
Vacancy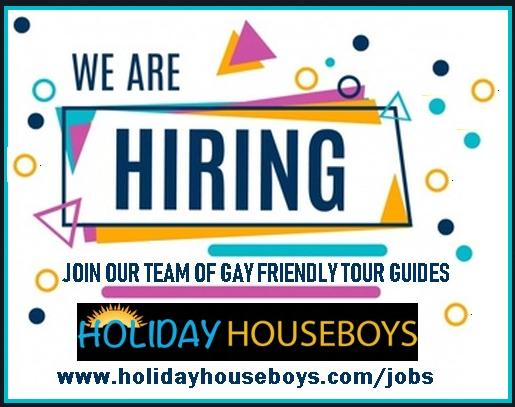 How To Book A Holiday Houseboy
To book any of our Holiday Houseboys please go to the enquiry form.
Alternatively WhatsApp +94-76-630-1069.
Remember a Holiday Houseboy is your gay friendly tour guide who looks after your safety and welfare at all times.
Please note these are guide services and not sexual services.
To make the most of your stay in the Dominican Republic, book one or more of these amazing activities.
Highlights of Santo Domingo
Santo Domingo was the first colony in the New World. It was established by Spain in 1492. The colony was granted administrative powers over the Spanish possessions in the Caribbean.
The colony remained a military stronghold of the Spanish Empire for over a century, successfully defending against British, Dutch, and French until the early 17th century.
Nowadays, Dominican Republic is the second largest and most diverse Caribbean country. It is situated just two hours south of Miami, less than four hours from New York. Known for its warm and hospitable people. Dominican Republic is a destination like no other, featuring astounding nature, history and rich culture.
Surrounded by the Atlantic Ocean in the north and the Caribbean Sea in the south, this tropical island paradise boasts nearly 1,000 miles (1,609 km) of coastline. And not forgetting over  250 miles (402 km) of some of the world's best beaches, magnificent resorts and hotels, and a variety of sports, recreation and entertainment options.
There are so many different things on offer. You can dance to the pulse of the merengue. In addition to this, explore ancient relics of centuries past, delight in delicious Dominican gastronomy. Not forgetting that you can enjoy ecotourism adventures in magnificent national parks, mountain ranges and rivers.

Head out to the Zona Colonial and explore the beautiful squares, colourful streets and rich history of Santo Domingo. Parque Colón is one of the cosiest places in the old town. Plaza España is bigger and is more popular with tourists, but has great vibes and has some superb views over the rest of Santo Domingo.
Want to explore Santo Domingo from above? Then you can hop on El Teleferico. This cable car takes you above some of the many neighborhoods of the capital city. If you want to see nature, but don't want to venture out too far away from the city. Then you can visit Los Tres Ojos National Park. Climb down the limestone caves and see the three underground lakes of Santo Domingo.
You can see the highlights of Santo Domingo in two days and in that time you also have enough time to relax and unwind at some of the local friendly restaurants or bars
Try to visit away from summer to avoid the hurricane season. April or May there are also be less tourists, so if you want to avoid the crowds this is the best time to come. During winter, there will be more visitors escaping the cold in their home countries.
In the Zona Colonial you will find restaurants that cater to every taste. Also worth mentioning: the cocktails in the historical city centre are great and are pretty much everywhere you go.This neighbourhood is probably also one of the best to stay in. You can wake up in a true Caribbean setting every morning and be rest assured you are in a  safe area.
The best places for shopping are outside the Zona Colonial. The Piattini neighborhood has lots of malls where you can find boutique stores, famous brands. In addition to this, also crafts, electronic shops, etc. Make sure to visit Agora Mall which is the biggest shopping mall in the Caribbean.
What is the best thing to do in Santo Domingo for solo travellers?
Plan a few day trips (or even longer) to other regions of the Dominican Republic. It's the best way to meet other solo travellers. However it is also a great way to explore the beauty of the island. You can go whale watching in Los Haitises, visit the El Limon Waterfall, or beautiful Puerto Plata.
What are the best beaches around Santo Domingo?
 Most beaches here are stunning. However, the prettiest ones are not so close to Santo Domingo. Head to Boca Chica or Juan Dolio. Both beaches have pearly white sand and crystal clear water. Just what you expect to see during a holiday in the Caribbean.
In conclusion, whatever you choose to do in Santo Domingo, we assure you it will be an experience of a lifetime, with a Holiday Houseboy, who will look after your welfare.
Find Hotel Deals & Discounts in Santo Domingo
Find Your Cheapest Flight