TURKISH DELIGHT
Visit the bazaars of Istanbul, do as the Turks do in Izmir and fly in a balloon over the famous fairytale towers of Cappadocia. With Holiday Houseboy guides in all three places your safety and welfare is assured in this Turkey tour. Lots of activities planned to get to know both the traditional and the modern. Have fun and book this once in a lifetime wonderful tour.
June 29-July 8, 2023
US$5,995 per person
Register Your Interest in the Turkish Delight Tour
This is a Turkey tour of Istanbul, Izmir and Cappadocia. Use the Booking Form as an Inquiry Form. Simply register your interest. Click on the Book Now and enter your details, without any commitment on your part.

---
QUICK FACTS
Who's it for?: Gay men only
Duration: 9 Nights/10 Days
Arrival: Istanbul, Turkey
Departure: Istanbul, Turkey
Group size: minimum 4; maximum 12
Accommodation: 5 star hotels
Activities: historical sites, hammam, balloon ride, bazaars, gay bars
---
HIGHLIGHTS
5 star hotels: luxury accommodation
City Walks: Cihnagir, Main St, Izmir town center
Gay Hamman: learn the Turkish technique for bath taking
Historical Sites: including Galata Tower, Blue Mosque, Topkapi Palace
Grand Bazaars: shop to drop in the bazaars of Istanbul and Izmir
Internal flights: Istanbul to Izmir to Cappadocia to Istanbul
Hot Air Balloon Ride: over the fairy towers of Cappadocia
Izmir Tour: flexible as to the wishes of the guests – wine yard visit, boat trip for swimming or fishing, traditional fish restaurant, going local
Holiday Houseboys: your gay friendly tour guides will be available at each destination to attend to your needs – Istanbul, Izmir, Cappadocia
Gay Bars in Istanbul: drink alongside the locals
---
DATES & PRICES – TURKISH DELIGHT TOUR

Duration: June 29-July 8, 2023
Price: US$5,995 per person
No Single Traveler Supplement
Deposit (non refundable): US$750 per person by Paypal (VISA, MASTERCARD, AMEX)
2nd Payment: 50% due before 60 days of the tour start date
Balance: balance due before 30 days of the tour stat date
Discount: 5% off any payments made by US bank transfer paid before the due payment date
Cancellation: No payments are refundable but amounts received are transferable as a credit against any other tour within 365 days of the original tour start date less payments not recoverable (eg. internal flights, hotel bookings), all subject to the discretion and approval of Holiday Houseboy Tours.


---

---
ITINERARY SUMMARY
Day 1 – arrive ISTANBUL
Day 2 – ISTANBUL
Day 3 – ISTANBUL
Day 4 – flight to IZMIR
Day 5 – IZMIR
Day 6 – IZMIR
Day 7 – flight to CAPPADOCIA
Day 8 – CAPPADOCIA
Day 9 – flight to ISTANBUL
Day 10 – depart ISTANBUL
---
ITINERARY FOR THE TURKISH DELIGHT TOUR
9 NIGHTS / 10 DAYS
Day 1 – June 29, 2023
Arrival
warm welcome at Istanbul International Airport
meet Onder our gay friendly guide for Istanbul
transfer to your 5 star hotel in Istanbul
"Meet and Greet" session at 8 pm in the hotel reception
Day 2 – June 30, 2023
ISTANBUL
Cihangir Walk
Main Street (Istiklal Ave)
Galata Tour
Galatport
Gay Hamman
Gay Bars in the evening
Day 3 – July 1, 2023
ISTANBUL
Sultanahmet Square
Sultan Ahmed Mosque (= the Blue Mosque)
Topkapi Palace
Hagia Sophia
Grand Bazaar of Istanbul
Gay Bars in the evening
Day 4 to 6 – July 2, 3 and 4, 2023
ISTANBUL to IZMIR
morning flight to Izmir
meet Hakan our gay friendly guide for Izmir
flexible tours according to the guests' wishes:-
– Grand Bazaar of Izmir
– Izmir Center walk
– local boat hire for swimming or fishing
– traditional fish restaurant
– going local, visit the places locals go to
Day 7 – July 5, 2023
IZMIR to CAPPADOCIA
morning flight to Cappadocia
meet Grant our gay friendly guide for Cappadocia
evening restaurant
Day 8 – July 6, 2023
CAPPADOCIA
early morning (5 am) for hot air balloon flight (3 hrs)
meet Grant our gay friendly guide for Cappadocia
evening restaurant
Day 9 – July 7, 2023
CAPPADOCIA to ISTANBUL
flight to Istanbul
meet Onder to plan the afternoon and evening as per guests' wishes
Day 10 – July 8, 2023
ISTANBUL
Departure
farewell from the hotel in Istanbul
airport transfer to Istanbul International Airport
---
INCLUDES
warm welcome at the airports on arrival
airport transfers to your hotel
English speaking tour guides 24/7
hotel accommodation (5 star)
all breakfasts
activities mentioned as per the itinerary (including the balloon ride but not activities in Izmir)
EXCLUDES
activities in Izmir
lunch and dinner
International flights to and from Istanbul
Turkey Tourist Visa (you can order online via ivisa.com)
Note: Americans need a Tukey Tourist Visa to enter Turkey
Travel Insurance (compulsory)
---
CANCELLATION POLICY
All funds paid are non refundable. Any costs that can be recuperated for you will go as a credit towards any of our other tours to be used within 12 months of the original start date of this tour, and such a credit is only given at our discretion. Hence the importance of ensuring that your travel insurance covers CFR (cancellation for any reason).
Please note the tour may be subject to change at the discretion of the tour guide.
---
Notes on Travel Insurance
You should purchase travel insurance that includes medical coverage of US$50,000 and emergency repatriation coverage of minimum US$200,000. Please note it is also recommended to cover isolation costs if testing positive for covid-19, and trip cancellation for any reason (CFAR). You will probably need to purchase this within 24 hours of paying your deposit. Please make sure that you contact your insurance provider directly to understand any impacts of covid. Any government related travel advisories may also impact your coverage. We cannot recommend or endorse any travel insurance company and the choice of your insurance provider is your own personal choice.
Please note the tour may be subject to change at our discretion.
---
YOUR GUIDES FOR THE TURKISH DELIGHT TOUR
ONDER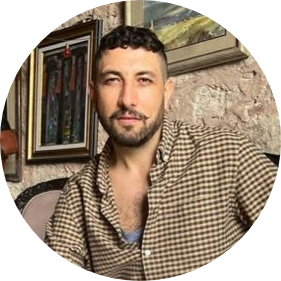 Onder works in a hotel close to Taksim Square. He has been in this job for 5 years. Being a night receptionist he is accustomed to customer service. His secret interest includes acting, which he does at an amateur level. He also likes opera, the cinema, football and swimming. He goes to the gym a few times a week to keep in good shape. A worldy guy, Onder looks forward to looking after you as your Istanbul guide.

Testimonials:-
"Onder was fantastic. An experienced guide and knowledgeable about everything Istanbul, what makes him successful is the pure joy he derives from showing off his hometown. He's also one of the nicest guys you'd ever meet. Run don't walk to have Onder as your guide." – Fred, USA
"Onder was fantastic!! We had a terrific day together, one which I won't soon forget. He was communicative, prompt, friendly, intelligent and spoke excellent English. His knowledge of the areas we visited was awesome, as well. We didn't really plan much in advance, so the day just unfolded… we went to Balat, walked around Galata, had lunch at a mezes restaurant and he showed me how the subway system works, among other things. I can only give Onder my highest praise and recommendation. Many thanks and, if Onder is typical, I wouldn't hesitate to book with Holiday Houseboys again." -Thom Wise,USA
"Onder is a handsome, charming guy. I really enjoyed his company. By telling a series of anecdotes and describing various neighbourhoods, he gave me an interesting perspective on life in Istanbul and how it relates to other parts of a multi-faceted country. He has a good sense of humour and an adventurous spirit. I would not hesitate to recommend Onder's services if you're looking for a courteous and attentive Istanbul guide. Particularly helpful for people who are travelling on their own" — Ted, Canada
"Onder turned out to be the best guide I've ever used. He showed me everything I wanted to see, eat, drink, go out and all I could have wished for in a guide. He was so friendly great to talk to. So relaxed and I saw all of Istanbul through his eyes which is what I wanted. Hopefully I will be returning late September and using him again." – Paul, Australia
HAKAN
Originally graduating in Economics, Hakan is a textile manufacturer. He is the official manufactured for some well known brands in motor sport. And other brands in Bosnia, Italy and USA. In addition he sells original brand ready to wear apparel stocks for exporting and to consultancy companies. Hakan loves to meet new friends and show them his beautiful city. As he says, "I like to make new communications worldwide". His hobbies are martial arts and fishing in his boat. What makes Hakan exceptional is his people's skills.

Testimonials:-
"Thank you for the pleasure of meeting Hakan as our guide. He is friendly, knowledgeable, with so much passion for his hometown Izmir. Our tour was wonderful, and covered all our requests. The fact we were travelling with his car was a great bonus. Hakan is flexible, and after we knew each other better, while traveling, he changed the plan so it will fit us the best. Very recommended!" – Avner, Israel.

GRANT
Grant is completely bilingual. His father is Turkish, his mother Scottish. Despite his youth he is a professional tour guide. He studied travel management and tour guiding at a university in Ankara. Nowadays he is continuing his studies for a masters degree in Recreation and Tour Guiding in Cappadocia. Super positive and energetic, Grant loves to meet new people.An open minded individual, who is easy to get on with, Grant would love to be your tour guide around incredible and unique Cappadocia.


---
LGBT RIGHTS in TURKEY
Of interest is that LGBT people have had the right to seek asylum in Turkey under the Geneva Convention of 1951. And since 1858, sodomity and homosexual acts were omitted from the then new penal code. So whilst homosexuality is not criminalized today, same sex couples do not have the same rights as heterosexuals.

Click here for more info on LGBT rights in Turkey.
---
Find Your Cheapest Flight to Istanbul, Turkey